CIconDialog An MFC dialog class to select an icon
This class provides the same functionality as the dialog Windows Explorer uses to change the icon for a shortcut. The actual appearance of the dialog is based on the new style for this dialog as used in Internet Explorer 4. The main difference between the standard Windows "Choose Icon" dialog and the new style is that a larger list box is used to display the available icons. When displayed it looks as follows: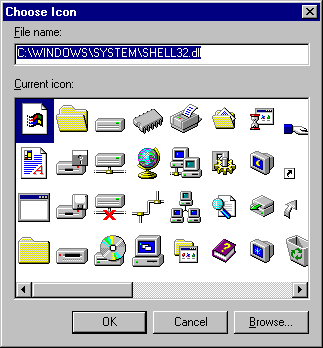 The enclosed zip file contains the CIconDialog source code and also includes a simple MFC dialog based demonstration application.
Copyright
You are allowed to include the source code in any product (commercial, shareware, freeware or otherwise) when your product is released in binary form.
You are allowed to modify the source code in any way you want except you cannot modify the copyright details at the top of each module.
If you want to distribute source code with your application, then you are only allowed to distribute versions released by the author. This is to maintain a single distribution point for the source code.